5 Unique Ways to Make a Beautiful First Impression in Your Kitchen
These changes make a big (and unexpected) impact.
Designing your kitchen is much more than just choosing appliances, cabinets, and a countertop.
Steal these spot-on designer tips from top interior designers to inject more personality into your cooking space.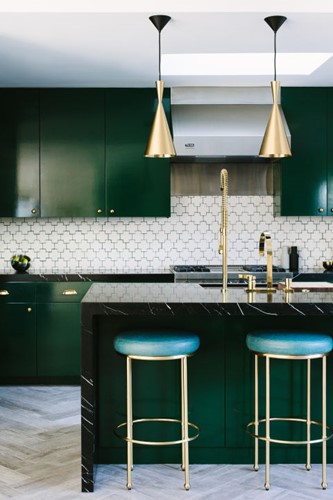 Courtesy of Caitlin Murray
Experiment with geometric tiles.
Tile offers a repeating pattern to your backsplash, floor, or counter no matter its shape — and that can make you think the quietest options (like rectangles and squares) are the safest. But in a solid or neutral hue, more playful patterns dial up your kitchen's decor without overwhelming the space.
"I stumbled across this backsplash (Swiss Cross by Ann Sacks) while searching for something that looked like subway tile, but wasn't," says Caitlin Murray of Black Lacquer Design.
"I was reluctant to introduce a new color pattern into this kitchen because the cabinets and counters are so strong, but I wanted a backsplash that held its own. The geometric lines complement the modern style of the kitchen — it's a traditional element with a contemporary twist.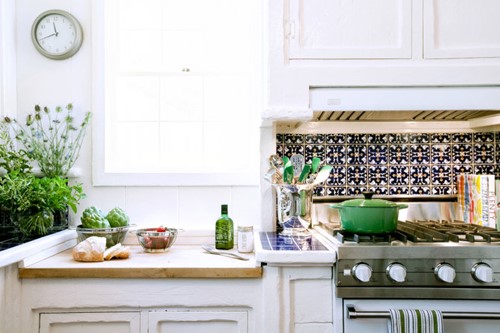 Courtesy of Lindsay Pennington
Sneak pattern into a small space.
For most people, kitchens trend toward neutral territory — but too much beige, white, or gray is a missed opportunity for some lively pattern, which can make a kitchen feel more like home.
"Tile can coexist beautifully with solid surfaces," says designer Lindsay Pennington. "It adds a rustic element that takes an edge off modern kitchens. I adore Spanish and Moroccan tiles for their playful colors and sense of personality."
For a competitive quote for the manufacture of your customers' new complete kitchen or bedroom please click here today!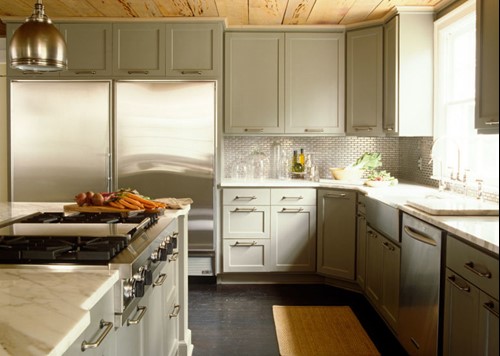 Simon Upton/The Interior Archive
Choose heart-stealing hardware.
"Kitchen hardware is so important because it's the jewelry of the room," says designer
Tamara Eaton. "I don't usually go too outside-of-the-box on cabinet finishes, but hardware that is sculpted or unusual is a nice element to introduce into a kitchen."
Warm brass hardware is "a timeless material, and feels crafted," she says. "Plus, you can control the patina by polishing it for a shiny look or letting it dull to a warm luster." If you're opting for steel, or have stainless steel appliances, keep the finish smudge-free with stainless steel wipes.
But no matter what material you choose, know that hardware's impact is certainly greater than the sum of its parts — it's important to choose a design and finish you really love.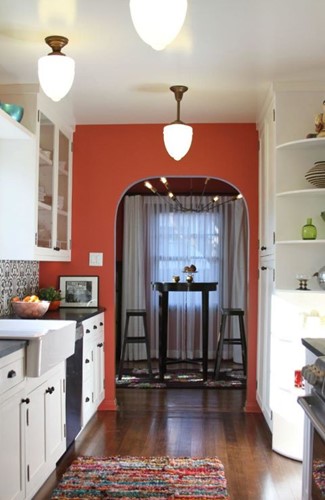 Courtesy of Karen Vidal
Create a standout accent wall.
This design trick is the epitome of easy — no heavy-lifting, no new fixtures, just paint (on a single wall!). And yet the result is far greater than the effort you'll make to get it done.
"A bold wall color paired with white cabinetry can instantly breathe in some new life into a kitchen," says Karen Vidal of Design Vidal.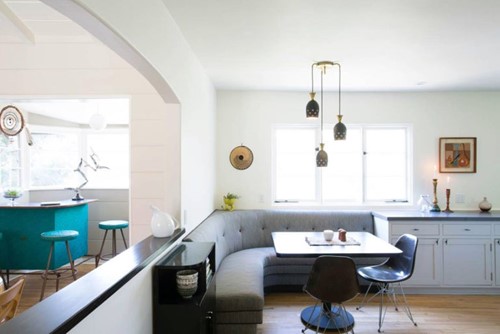 Courtesy of Karen Vidal
Make your eating area cozier.
Take a cue from your living room next time you want to redesign your eating areas — a banquette maximizes seating space, is comfy and inviting, and is also just plain fun.
"We love built-in banquettes in a kitchen," says Vidal. "They're an instant gathering space."
Via: http://www.goodhousekeeping.com/home/decorating-ideas/g3520/unique-beautiful-kitchen-style-tips/
For a competitive quote for the manufacture of your customers' new complete kitchen or bedroom please click here today!