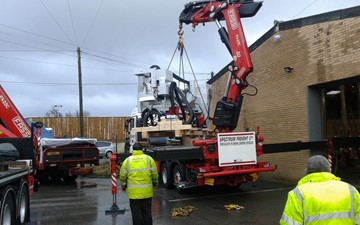 Basically Trade have made a major leap forward and moved into a new 6,000sq feet premises in Padiham. Basically Trade made a huge investment into brand new HOMAG machinery to enable us to design and manufacture custom made carcasses for our trade clients in the UK.
On a rainy day in February all our new HOMAG state of the art CNC and edge banding machinery arrived at our new factory in Padiham. This machinery means we make all of our items with the utmost precision and accuracy, it also means we can produce our products at a quicker rate than usual as we will be able to source all our products in one place.
With our expansion and new machinery comes many new opportunities to bring our customers bigger and better projects with the very best materials on the market. We are now able to create full kitchens and bedrooms from scratch all in one place, something very few companies can do these days. This also means we will be able to monitor a project from start to finish and ensure your products are of the highest quality to give you real peace of mind you have chosen the right place to go.
We now offer deliveries throughout the UK and we can also export around the world too, as we have recently done huge jobs in places as far away as Hong Kong!
With our new machinery and links to the top manufacturers we are able to offer you the highest quality materials and fittings in our products, such as the Blum components we use in all of our carcasses, these components also come with a lifetime guarantee, again something other companies may not be able to offer the trade.