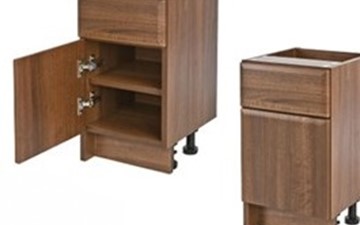 When it comes to carcasses be it for the bedroom or kitchen, people rarely think of going to a company who can provide a totally bespoke carcass as they simply don't realise these are available. Here at Basically Trade we can provide unique bespoke carcasses to suit anyone's needs and styles.
Only the highest quality 18mm Egger and Kronospan melamine faced chipboards are used for the carcasses to provide the strongest structure which can withhold a lot more than the average off the shelf cabinets purchased from the local high street shed. All backs, gables, shelves and drawer bases are 18mm as standard and all have adequate service gaps so that you can feed cables and pipes behind them easily.
The great thing about the word bespoke is that it means whatever you want in terms of design and colour you can have, all our carcasses are colour co-ordinated which provide a product that is colour matched inside and out. When buying our carcasses you can have the peace of mind that when you buy it, it will be sent to you fully assembled.
Our kitchen carcasses only use Blum components throughout in the hinges and drawer boxes, this is because we believe you should have the highest quality fittings when it comes to buying a product and we pride ourselves in what we can offer. All Blum fittings have a life time guarantee as standard. Another benefit of our kitchen carcasses is they have adjustable height legs which provide easy alteration for uneven surfaces.
For the bedroom carcasses full gables are fitted as standard including clip on hinges. MFC drawer boxes are supplied with 18mm solid mfc bases and all Blum soft close drawer systems are available on request. Many other additions are also available on request as don't forget, these products are bespoke and made exactly to your specifications and desires.