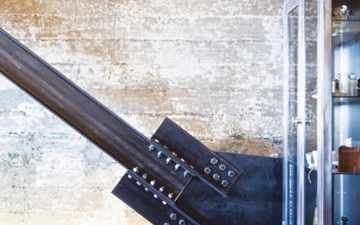 Rough, bare brick walls, mottled grey concrete and bulbs hanging lampshade-less from an exposed ceiling. Once, these were the markers of a building under construction. Now, these industrial-style interiors inspired by warehouse buildings are proof that the owner has their finger on the design pulse.
But while some of us feel on-trend for buying an Edison bulb lamp or judging the trendiness of a bar on whether or not it has wallpaper and factory lighting, this style is far from new. 
"The pioneering designers of the reuse of industrial buildings and spaces were initially the creatives who occupied these spaces in the various derelict inner cities of the early 70s," Graeme Brooker, Professor of Interior Design at the Royal College of Art (RCA), explains to The Independent. 
"In London, it was people like Ron Arad, Tom Dixon, Andre Dubriel, Danny Lane, Derek Jarman and Joe Rush who were creative in salvaging the relics of the derelict buildings that were once the manufacturing base of London, rendered obsolete by Thatcherism, and reusing them for living spaces but also spaces for events."
It turned out that as well as offering a cheap space to work and socialise, warehouses were quite pleasant to live in once they were done up. Warehouses offer the elements of buildings that people have always sought out - character, large open spaces outside of Victorian scaled housing, high ceilings and floods of light - that are hard to find in major cities if you don't have a hefty bank balance, adds Professor Brooker. Now, warehouses have gone from shelters for squatters and hard-up artists to being sought out by affluent urban professionals, from San Francisco to London. Research from Australia shows that buyers interested in purchasing a home with a warehouse feel can pay a premium of up to 20 per cent. 
The warehouse-inspired interiors that have emerged from these homes have converged with the rise of technology in every aspect of our lives - from smartphones to Amazon's Alexa - and enable us to indulge in nostalgia for an analogue era. At the same time, industrial design prods people into re-thinking how they used their living spaces. Meanwhile, the tough furnishings - from reclaimed factory lampshades and worn leather seats - that are used to decorate ex-warehouses and now suburban homes and nightspots didn't come about because of some grand ideas about design, but because they just made sense. 
"Lofts express a need for spaces that are large, open and non-defined in a way so that people can inhabit them in a number of ways and not be forced into a room-based approach to living," says Professor Brooker.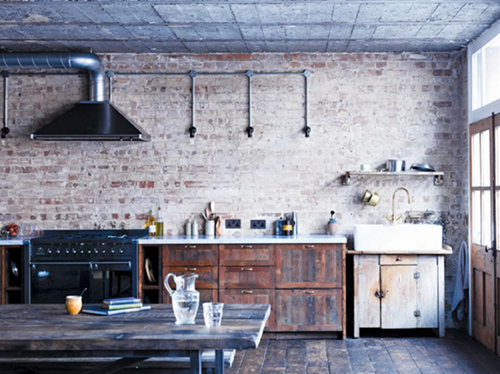 He adds: "The aesthetic of the materiality of the existing space is usually one of hard surfaces, and therefore any new elements imported into the space need to be tough and refined in order to stand up to the existing context into which they are placed."
Sophie Bush is among those enjoying living in an formerly industrial building. In 2012, she bought an apartment in a Grade II listed former mill in East London. She quickly became obsessed with this type of living, and has since launched Warehouse Home magazine and written the book Warehouse Home: Industrial Inspiration for Twenty-First-Century Living which is a love-letter to homes like hers. According to Bush, her home narrowly escaped being destroyed during the Blitz, when the rest of the area comprising of timber docks and warehouses, was razed to the ground.
"I was immediately drawn to its original features: the exposed brickwork and the steel columns. Its an impressive building, on the south bank of the Thames. It has an enormous crane, grain chute and old mill stones, which are references to its former life. There's a real sense of history here. The interior courtyards mean it's also a peaceful environment in which to live - a rare thing in London," she tells The Independent. 
"For design-conscious homeowners, industrial conversions represent a fantastic opportunity to really be imaginative," she goes on. "Features like exposed brickwork, raw concrete and beams present a creative challenge and the opportunity to source original decor to complement and contrast with these heritage elements."
"There's a sense of living in, and helping to preserve, a piece of history. There also tends to be a real sense of community in these conversions. I have quite an emotional attachment to my home." 
For those who are already settled in a more suburban home, or can barely make their rent let alone buy up a corner of a former industrial complex in a major city, elements of the style are easy to adopt without having to tear off wallpaper or knock down walls to lay structural beams bare. 
"Choosing furniture on casters is an easy way to incorporate a touch of industrial style in your home," says Bush, "and the fact that this furniture is easy to move and relocate makes it a practical choice for modern living too. Smaller accessories salvaged from factory settings - industrial lighting, a machinist's stool, a factory clock - are easily incorporated into any interior scheme."
"If your interiors scheme is more contemporary, choose iconic designs like the Emeco 1006 Navy Chair or Lampe Gras desk lamps that were originally designed over half a century ago for heavy-duty use but have since transitioned from warehouse to home, gaining popularity among homeowners for their functional yet stylish forms."
Bush adds that adopting an industrial style doesn't stop at furniture and lighting, but also textures. "Consider materials, textures and finishes too. Offsetting polished and patinated metal with aged timber, linen and brushed cotton is a subtle way to reference industrial style in any space."
And if you're cosy suburban home begins looking like a well-furnished building site, you're on the right track. 
Via http://www.independent.co.uk/life-style/exposed-brick-edison-bulbs-interior-design-which-is-it-such-a-trend-a7701406.html