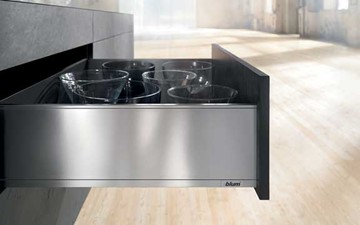 Straight lines create the elegant look that defines LEGRABOX, our newest premium metal drawer system. It is available in two luxurious finishes that complement a wide variety of styles and colours, and four drawer side heights cover a wide range of design options in the kitchen, bath, or furniture applications.
Linear. Sleek. Slim. LEGRABOX features an elegant drawer side design combined with impressive advanced technology.
Thanks to advances in runner system technology, LEGRABOX provides a fluid running action even under heavy loads.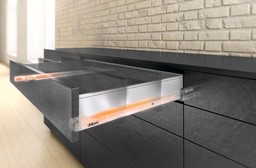 Impressively slim ½" drawer sides that are straight on both the inside and outside, maximise usable drawer space.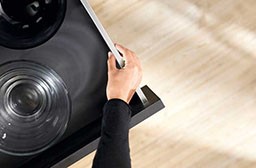 Four drawer side heights offer a wide range of solutions for drawers and interior roll-outs.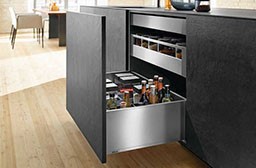 AMBIA-LINE is stylish and practical, and stored items are always organised and easy to find.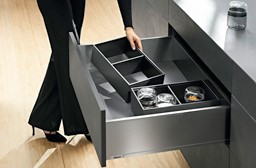 Assembly and adjustment:
With LEGRABOX, fewer parts and pieces makes it is easy to order and easy to assemble. Three dimensional height, side, and tilt adjustments.
Benefits at a glance:
Available in two colours – Orion gray and stainless steel
Easy height, side, tilt adjustment
Matching organisation options
Can be upgraded with touch to open features
Via http://www.blum.com/eu/en/01/30/30/