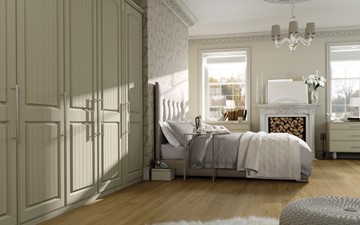 The Bella kitchen and bedroom door ranges are two of our flagship ranges here at Basically Trade. This is because they are of the highest quality and with the 23 styles in 35 vinyl colours, plus the brilliant new range of Bella high gloss kitchen and bedroom doors to choose from you have well over 700 combinations which gives you a wide variety to choose your truly bespoke doors and matching accessories, designed for your style.
The Bella range covers everything from kitchen cupboard doors, hinged wardrobe doors and even replacement doors for kitchens, bedrooms and studies whether you're looking to refurbish a few cabinets with new fronts or if you're looking to fit a whole new room set, including our made to measure carcasses.  The team at Basically Trade are able to cater for everyone's needs.
The great thing about Bella doors is that whatever you are ordering them for, be it a kitchen, bedroom or study they can be manufactured and designed to the exact specifications you need. Basically Trade don't just stop there with the customer service, we have also placed together an extensive range of kitchen handles, soft close Blum drawers and internal accessories, such as pull-out wirework, bins and storage solutions, to help maximise space and add that extra pizzazz to kitchen design.   For the bedrooms we have a complimentary range of carcasses, again designed to meet your storage needs such as double hanging, internal shelving and drawer packs.  Handles and soft close Blum drawer runners using MFC or solid oak dovetailed drawer boxes, wirework storage solutions such as tie racks, shoe racks and trouser rails, internal lighting and accessories  give you everything you'll need for that perfect bedroom.
Basically Trade always put the environment first and like many of our products, the Bella range of doors are manufactured using FSC rated mdf which mean the products come from sustainable forests to give you true peace of mind when purchasing from us.  The Bella products also come with a 6 year manufacturer's warranty against material defect, valid from date of delivery.
For more information on the Bella kitchen range visit https://www.basicallytrade.co.uk/doors-for-kitchens/bella-vinyl/  alternatively if you want the bedroom range visit https://www.basicallytrade.co.uk/doors-for-bedrooms/bella-vinyl/